Home > Photon Boy adventure > Vol.01 "IYL2015" commemorative ceremonies
Vol.01 "IYL2015" commemorative ceremonies
Photon Boy visits the commemorative ceremonies of "IYL2015"
2015 is the "International Year of Light and Light-based technologies"
IYL2015 (International Year of Light and Light-based technologies) is a global initiative adopted by the United Nation (UN). UN proclaimed 2015 as a period to raise global awareness about "how light-based technologies promote sustainable development and provide solutions to global challenges in energy, education, agriculture and health. Light plays a vital role in our daily lives and is an imperative cross-cutting discipline of science in the 21st century. It has revolutionized medicine, opened up international communication via the Internet, and continues to be central to linking cultural, economic and political aspects of the global society."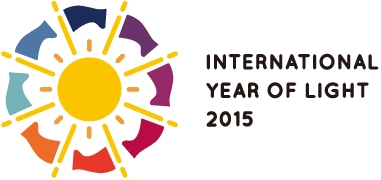 In other words, IYL2015 is the period to share awareness of the importance of light and light-based technologies on a global scale for our happiness as well as development of our society.
Through IYL2015, it is expected that people of various backgrounds such as politicians and scientists, company workers, and educators, of both kids and adults, interact and exchange their opinions with each other, which will create a bonding. Consequently, advances in light and light-based technologies lead to further contributions to society.
Hey there, this is Photon Boy! I visited the IYL2015 anniversary events held in Paris, France and in Tokyo, Japan. In both of these places, large number of people gathered and enjoyed lectures of famous scientists, observation of interesting experiments, and beautiful illumination shows. I learned a history about how photonics and light-based technology has developed, and at the same time also sensed enormous potential for the future. You know, I really felt that light is really wonderful and interesting.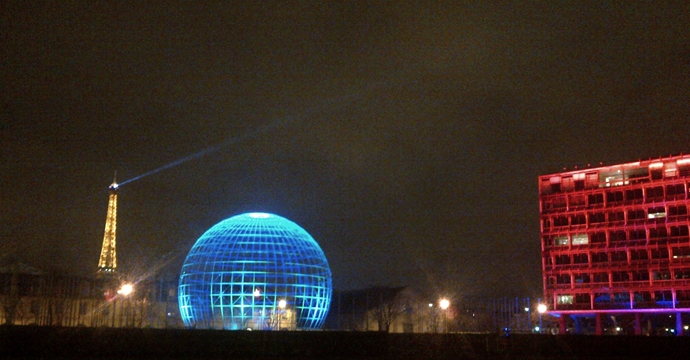 UNESCO headquarters lit up with an image of the aurora and the Eiffel tower.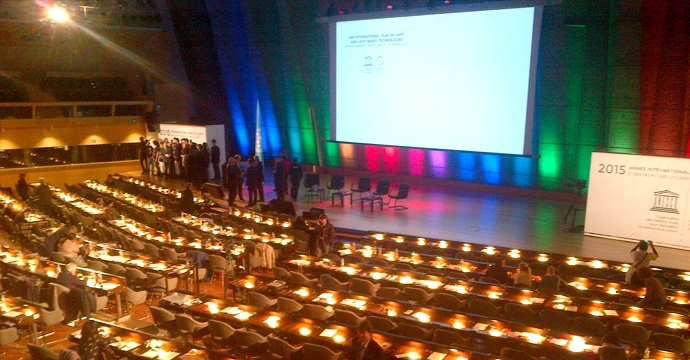 Commemorative ceremony site where some 1,200 participants gathered.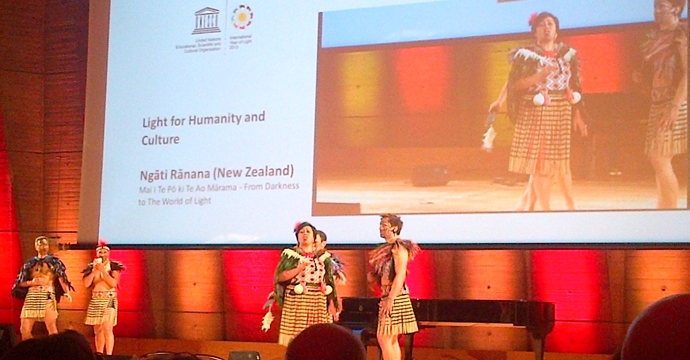 Performance featuring the world of light and darkness of Maori people.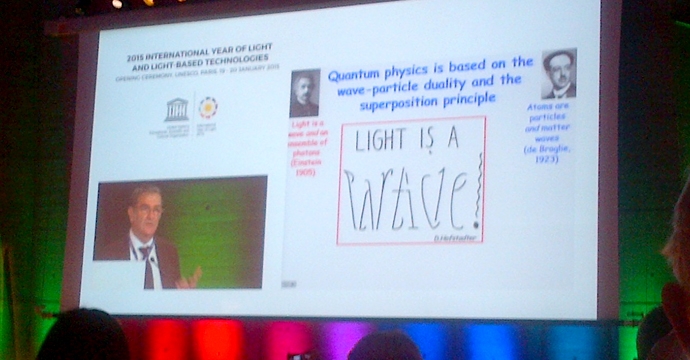 Lecture on "Light and the Quantum" by Nobel Prize winner physicist, Mr. Serge Haroche.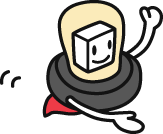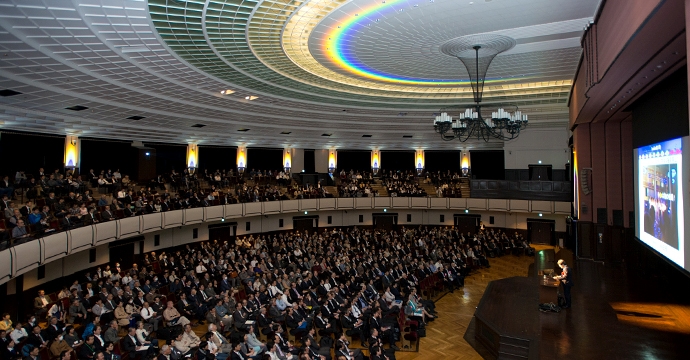 Yasuda Auditorium at the University of Tokyo. Some 1100 participants filled the auditorium hall.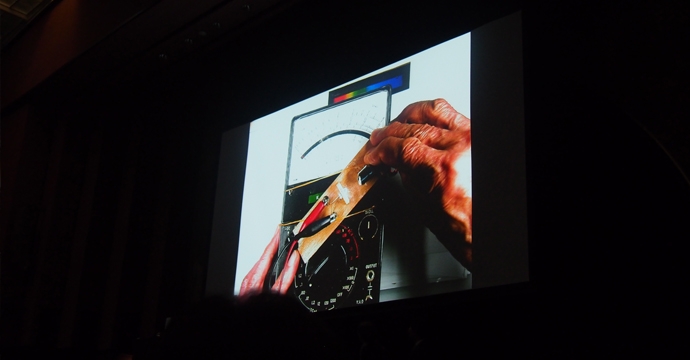 Lecture on the "Science of Light" by Mr. Koichi Shimoda, emeritus professor at the University of Tokyo. This was a really interesting demonstration which intelligibly explained the property of light including an experiment investigating how the oscillation frequency differs according to the wavelength of the light.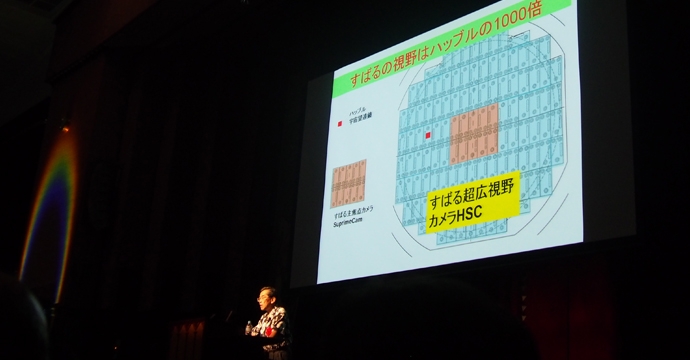 Lecture on "Light and Outer Space" by Mr. Masanori Iye, emeritus professor at the National Astronomical Observatory. His talk about history of the universe and physics that were gradually revealed along with the advancement of telescopes was so exciting!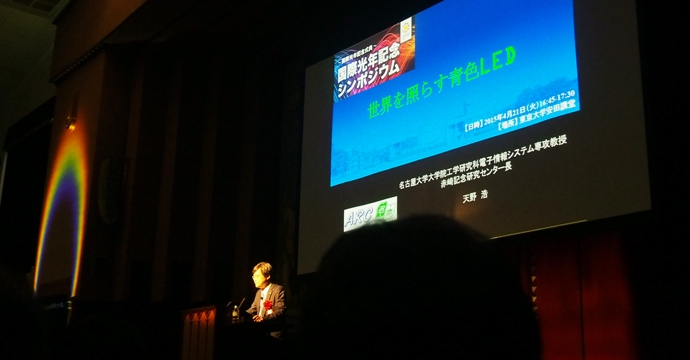 Lecture by Mr. Hiroshi Amano (Professor at Graduate School of Engineering, Nagoya University) who won the Nobel Prize in physics in 2014 on "Lighting up the World with the Blue LED". He told the off-stage episodes of the Nobel Prize award ceremony and also his experiences regarding the development of blue LED with full of humor. The entire audience hung on his every word!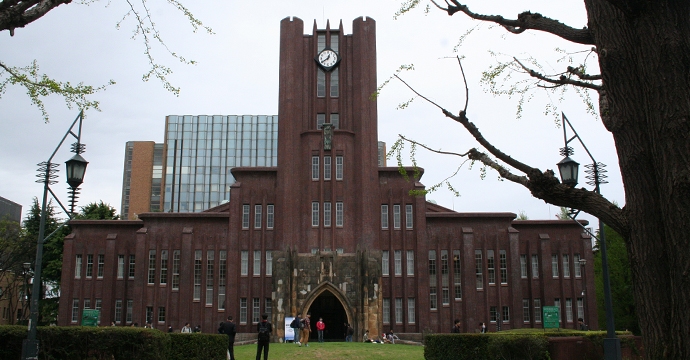 The Yasuda Auditorium at University of Tokyo, the venue of the event. The building was renovated from 2013 to 2014 for aseismic reinforcement. The mural painting from the original construction in 1924 was also reproduced. I gazed at the huge picture named "Wisdom comes out like a spring and bears fruit" for a while before going home.